24/7 Emergency Service When You Need Us
Are you looking for a 24/7 emergency tree service that you can count on? No matter what time of day or night it is, Patrick Musser Tree Service will respond to your situation. We understand that quick action is critical to limiting further damage, preventing debris-related injury, and preserving property value. For more than 30 years, homeowners and businesses have relied on our 24-hour tree services in Frederick and Montgomery Counties, MD, as well as surrounding areas. Each time you call us, we respond immediately and tackle the problem swiftly, effectively, and at a competitive price. Let's look at some good reasons to consider emergency tree service for your Maryland home.
Situations That Call for Emergency Tree Service
Contact our round-the-clock tree service if you find yourself in any of the following situations.
The Tree is near a Power Line – A branch or damaged tree too close to power lines can be a situation that warrants a call to an emergency tree removal service company. Quick action prevents fires, direct line contact, and accidents such as electrocution. Whether the tree was growing toward the lines or has actually fallen close to them, we know how to safely remove trees in high-risk situations. Because trimming trees within 10 feet of power lines can be fatal, we cannot trim any closer than 10 ft. In fact, it is the law, and only OSHA-certified line clearance workers are authorized to trim near power lines. If you're in this situation, the utility company should be contacted for safe removal. Never trim branches or limbs near a power line!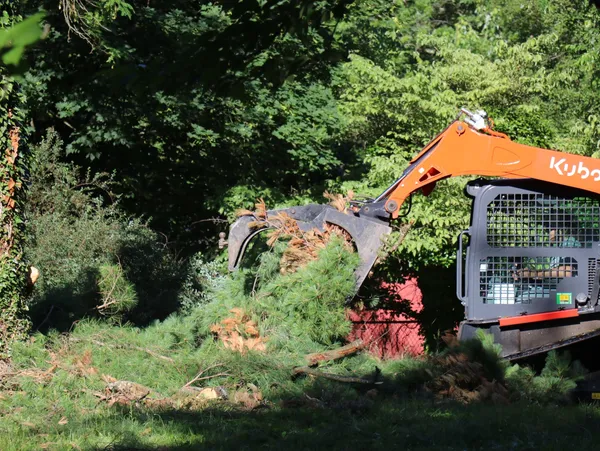 Damaged Property – Did a fallen tree or branch damage your roof, windows, or car? This is an emergency where you'll want to call a local arborist right away. Our technicians are well-versed in removing trees or branches that have fully or partially fallen on the property. Our methods ensure no additional damage is done. You should call your insurance provider, of course, so they can assess the extent of the damage. We are also ready to work with your insurance company to make the process less stressful for you.
Storm Damage – Storms wreak visible and hidden havoc on trees. After a heavy downpour, storm, high winds, or hurricane, some trees may crack, have broken branches, or even exposed roots. Other trees may look fine to the untrained eye but may be more likely to break or fall. Our tree service specialists can inspect your property for any obvious or hidden tree damage and eliminate the risk.
A Branch is Broken but Not Completely Severed – If a huge branch has splintered or cracked away from the trunk and is about to fall on a structure, fence, or neighbor's property, you need to call a tree service immediately. Our certified arborists have the expertise to quickly trim or remove it without harming the tree. If the entire tree is compromised, we can cut down and remove.
A Fallen Tree – The number one reason to call an emergency arborist is when you have a fallen tree on your property. Whether it was toppled by weather, disease, or age, you need to call local tree removal services. Approaching it isn't recommended, especially if it is near power lines. Let our experts do the extraction for you. 
Fallen Tree or Large Branch is Blocking Your Driveway – If you can't get in or out of your home because a downed tree is blocking the driveway, feel free to call our emergency tree removal team. We will spring into action, so you don't have to call off work, school, or reschedule a crucial appointment.
Tree Leaning Against Another Tree or Structure – Abnormal leaning is enough reason to phone local tree cutting services. But when a tree starts to lean on another tree or structure, that's a problem that can't wait. Call our 24/7 emergency tree services.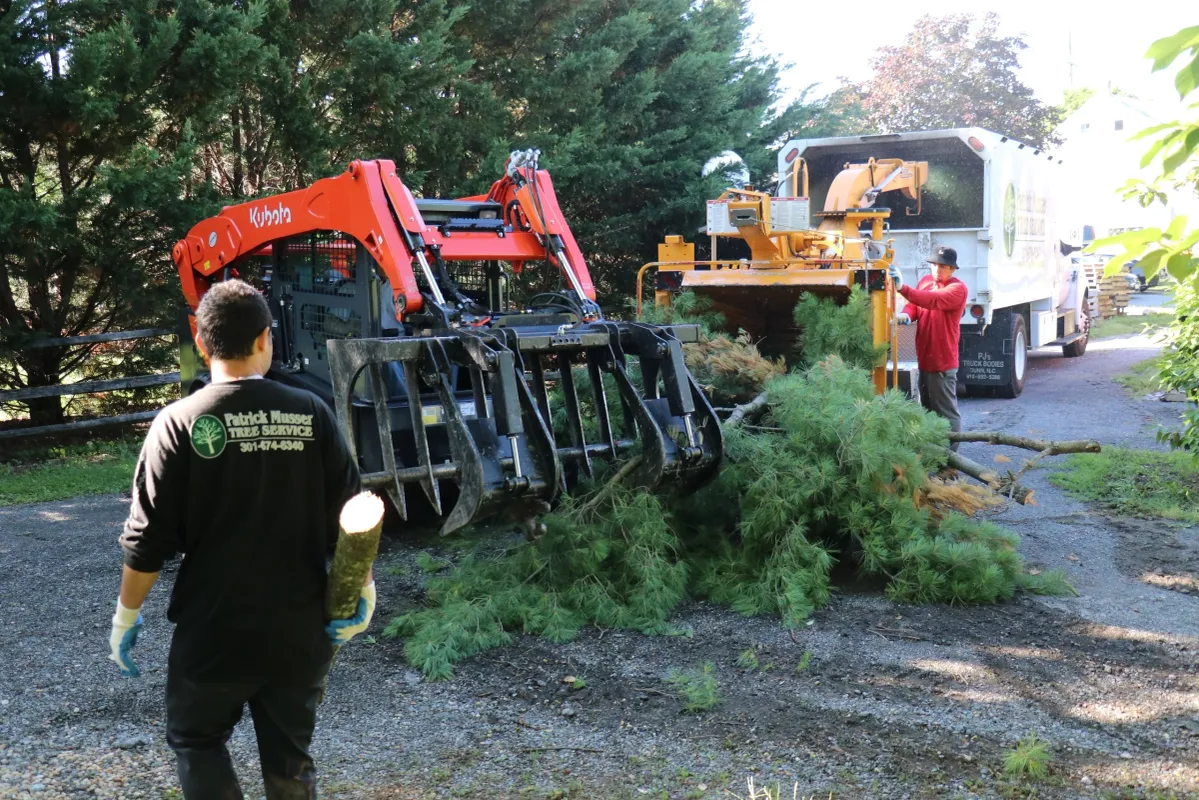 What You can Expect from our 24/7 Emergency Tree Services
At Patrick Musser Tree Service, we mean business when it comes to our 24-hour emergency tree service. Our crew shows up in record time, and we ensure the limb or tree removal process is done safely, with no risk to your property or our team. Our personnel are thoroughly trained, highly motivated, and possess great problem-solving techniques.
All of our team members are insured, wear quality safety gear, and when climbing is necessary, use the appropriate and well-maintained tree saddles and safety lines. We also have the machinery needed for large-scale and complex jobs. Our local tree service company has developed close relationships with other emergency contractors, so together, we can make  your property safe.
Sometimes, you don't have to wait for trees to fall to call our emergency tree removal services. You can reach out when you notice one of your trees is rotting, dead, or sick. Our crew can respond quickly and help you avert imminent danger. Before a storm, we can help you detect and remove tree hazards on your property. Our preventative tree services will save you money in the long run.
Professional Tree Arborists When You Need Them Most
When you search for "24-hour tree service near me" and find us, don't hesitate to contact us, whether in the middle of the night, holiday, or weekend!
Do Your Trees Need Some Attention?