Large and Dangerous Trees
Are your trees too large? Are you concerned that an oversized tree might fall and damage your property or, even worse, injure someone? At Patrick Musser Tree Service, we take your tree-related concerns seriously. We have assembled a highly experienced crew specializing in large and dangerous tree removal in Montgomery and Frederick County, MD, and neighboring areas.
If your large trees are starting to make you feel uneasy, simply reach out to us, and we will evaluate the situation for you. We understand losing a precious tree is sad, and that's why we have professionals to assess whether we can save it using other procedures such as trimming, pruning, and dead wood removal.
However, there are times when tree removal is the best solution. If our experts determine the tree is hazardous, or you specifically want it felled, our tree experts will work with you to cut it down safely and efficiently.
Warning Signs of a Dangerous Tree 
We suggest you call us if you spot any of these large tree hazards on your property.
The tree has grown too big for its health

Broken, damaged, or hanging limbs 

Dead limbs and branches 

It has started leaning on one side 

Doesn't appear to be strong enough to withstand high winds or ice

It's too close to nearby structures, power lines, or road

Droopy leaves or wilting

Holes in the tree caused by parasites, fungi, or disease

A bark that is peeling, cracked, swollen, soft, wet, or sunken

Main branches growing in a narrow V shape

Roots that are damaged, improperly cut off, decayed, highly exposed, or too shallow.

The tree is on difficult terrain, such as a slope or hill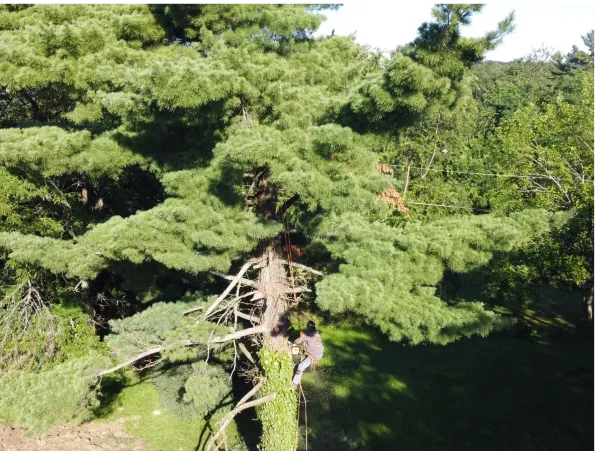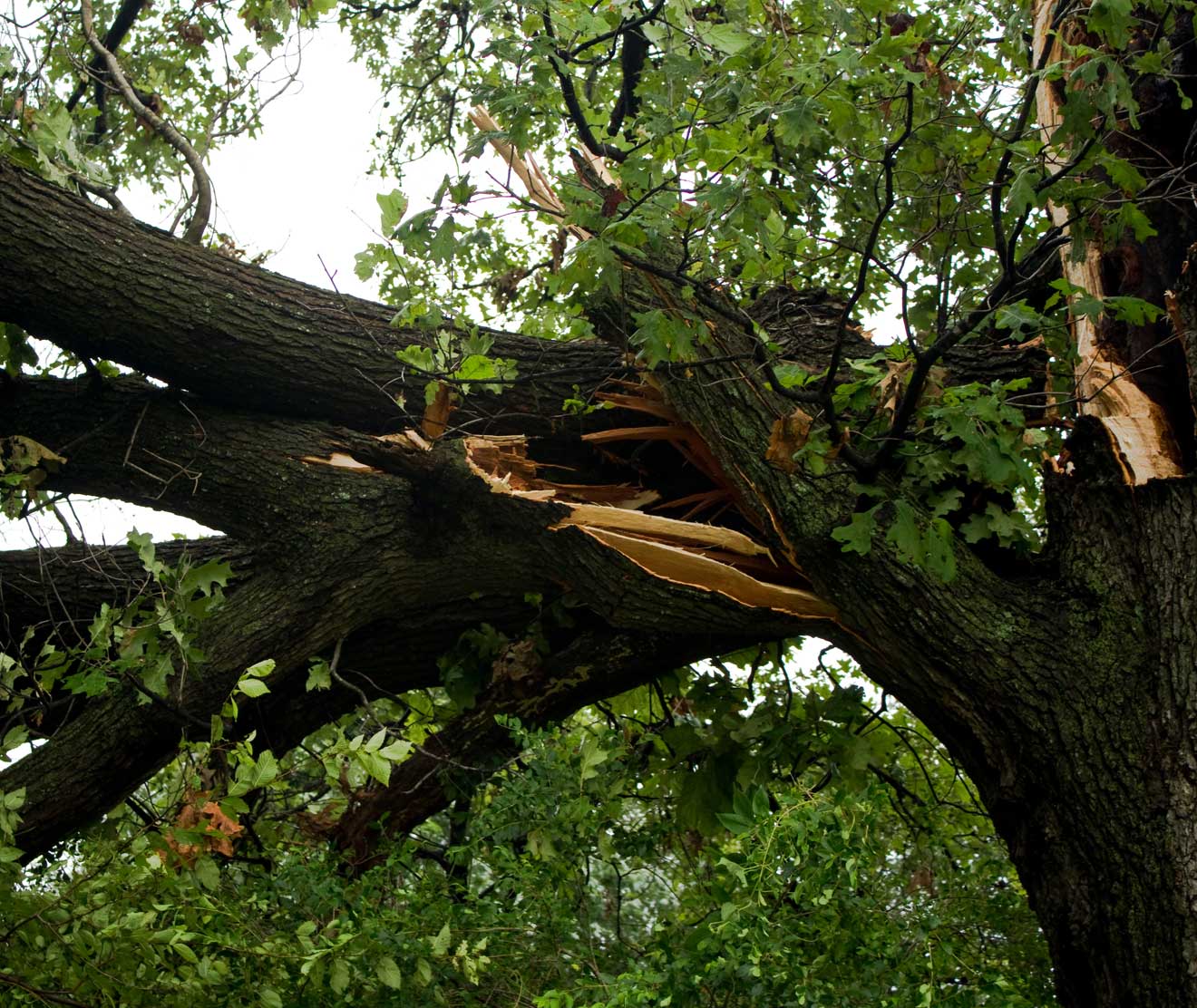 How Our Experts Handle Large and Dangerous Tree Removal
Oversized tree extraction is one of the most complicated and hazardous arborist services. It can lead to deadly situations if done improperly, such as falling on your house, power lines, other trees, or even a crew member. At Patrick Musser Tree Service, we understand the dangers  involved, that's why we leave nothing to chance and keep safety as a top priority. 
First, our crew members are extensively trained on large tree cutting and are equipped with state-of-the-art tree removal equipment, as well as personal protection gear. We also follow all relevant laws and processes required by the authorities. Here's what you can expect when we show up:
Tree Cutting – An experienced crew member will climb the tree and use specialized cutting equipment to dismantle the tree. Depending on the situation, we cut the branch, either whole or in sections, and let the pieces fall or lower them slowly to the ground. After removing the canopy and branches, we cut the trunk into sections and lower the chunks depending on the room available. Our technique ensures the tree never falls the wrong way.
Inspection – First, our experts will assess the tree's stability and its surrounding environment, then take note of any obstacles and hazards including power and telephone lines. 
Pre-planning – The specialists will come up with a tree removal plan depending on the height of the tree, size of the trunk, weak limbs, nearby obstacles, and weather.
Site Preparation – Depending on the location of the tree, our arborist will prepare the work site by removing anything that may interfere with the job and to ensure minimal lot damage.
Handling the Aftermath – We know removing a large tree can get messy, that's why we help you dispose of all the remaining green waste, including twigs, leaves, branches, and tree trunks. We can also cut the tree into manageable chunks, which can be split and used as firewood. In the end, we make sure our work site is tidy and free of debris.
Tree Stump Removal – If you want the stump and roots extracted, we can get it done. We have the equipment for stump grinding.
Set-up of Necessary Equipment – Our tree cutter will wear the appropriate safety gear, then use the proper harness systems for climbing and work positioning.
Professional Tree Removal Service You Can Trust
If you're searching for the "best large tree removal service near me," you can rely on us. As you can see, Patrick Musser Tree Service doesn't compromise on safety when it comes to tree removal and stump grinding in Frederick and Montgomery County, MD. We always have several crew members on site to help with the process and to be on the lookout for potential dangers.
We have also been performing hazardous tree removal services for decades and have a well-tested and proven system for identifying and removing hazardous trees from various properties. You don't have to break the bank to get quality dangerous tree removal services. You should find our hazardous and large tree removal cost affordable.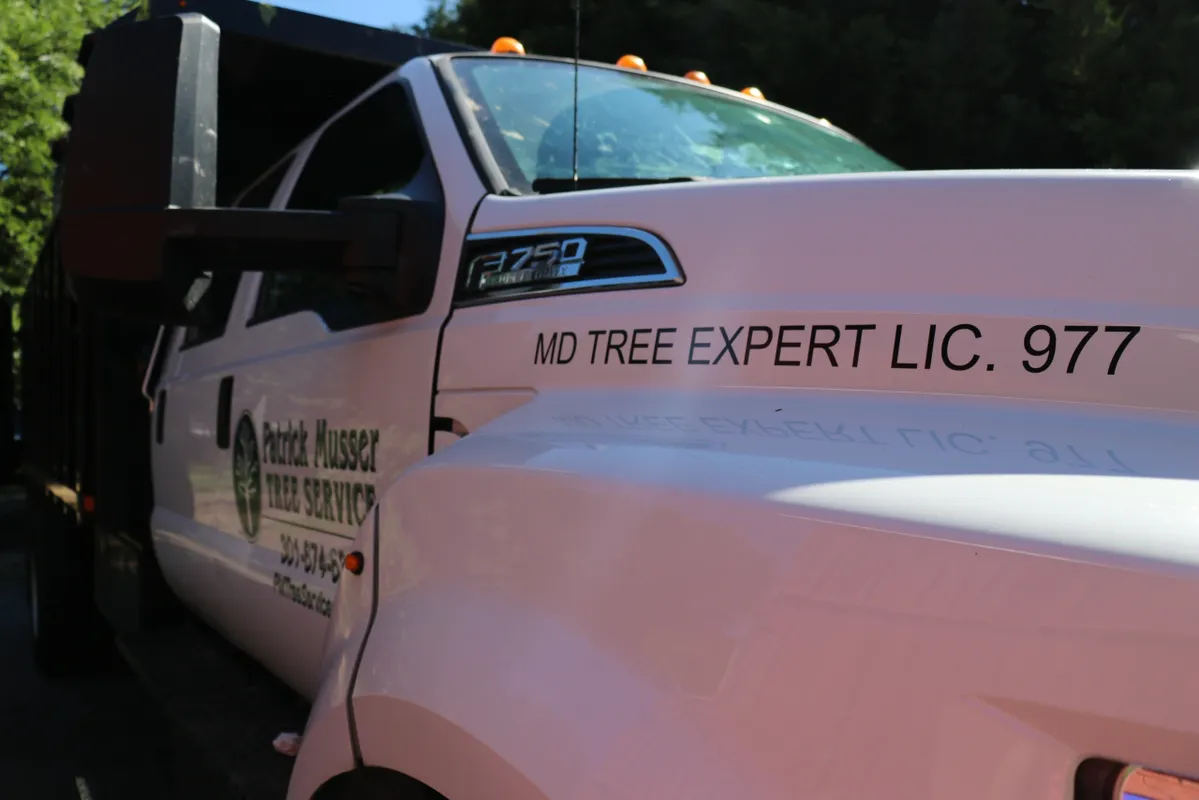 Whether your tree is dead, dying, damaged, dangerous, untreatable, or unwanted, call or email us today for quick and dependable large tree cutting services in Maryland, Northern Virginia, or Washington, DC.
Do Your Trees Need Some Attention?