Have you recently purchased your dream property? Are you looking for lot clearing services to prepare for development? You are in the right place. Patrick Musser Tree Service provides a full complement of lot clearing services. For more than 30 years, we have worked with various clients with different needs and expectations. Whether you are a homeowner who wants to expand the size of your backyard or create space for a pool or home addition, our lot clearing services have you covered. We also work with developers who want to clear raw land to make it fit for construction. Businesses, schools, and churches also rely on us for dependable land clearing services in Montgomery and Frederick Counties, MD., as well as surrounding areas.
Our Land Clearing Services
We have top-of-the-line equipment and expert operators who can handle any size land clearing job. Here are some of the heavy-lifting projects we tackle:
Tree Clearing – We cut and remove trees to make a site buildable or to eliminate trees that may hamper access to the project area. We also perform selective tree removal to enhance the aesthetics of your property or to remove fragile, sick, or dead trees. If you want to tidy up the backyard, our experts can help you determine which trees at the site will best complement the desired result of your project and which ones to remove.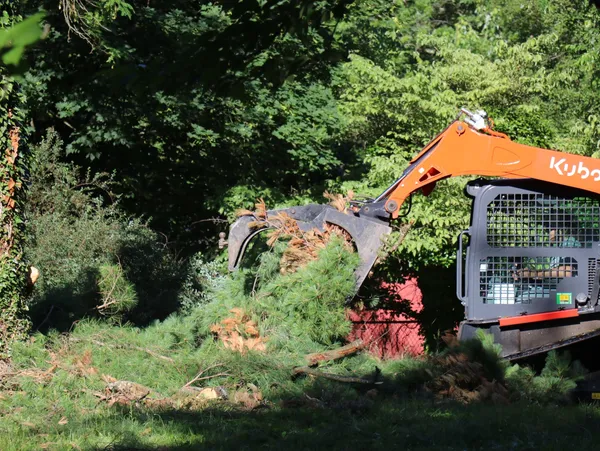 Fence Line Clearing – We are experts in cleaning out a fence line that has been neglected, whether it contains brush, shrubs, or small trees. Homeowners and businesses also rely on us when they need to clear a strip along a fence line to provide access to construct or maintain a fence. Removing overgrown plants along your unkempt fence line minimizes the risks of fire and pest infestations. It also improves visibility and extends the life of your fence, thus saving you money and improving security.
Brush Removal – Our underbrush clearing services improve the appearance of a property that looks unkempt, increases your outdoor space, and helps get rid of pests that thrive in the growth. Underbrush cleaning also improves the growth of existing trees by eliminating competition for nutrients and sunlight. Additionally, it reduces the risk of wildfire, suppresses diseases and insect epidemics, and restores the health of the woods around your home.
Storm Debris Removal – Staring at a mess after a disaster or storm? Our crew can help remove storm debris fast and effectively. We have specialized equipment and certified experts for large and small-scale storm cleanup. We can also prepare your property before storm season by removing trees or branches that are at risk of falling. Even better, you can rest assured our wood waste disposal is responsible.
Site Preparations – If you need a site on your property prepared for any residential or commercial project, we have you covered. Whether it's felling and removing trees, brush removal, stump grinding, or disposing of debris, we will get it done. We know stumps and tree roots are an obstacle, that's why we also offer stump and root removal services.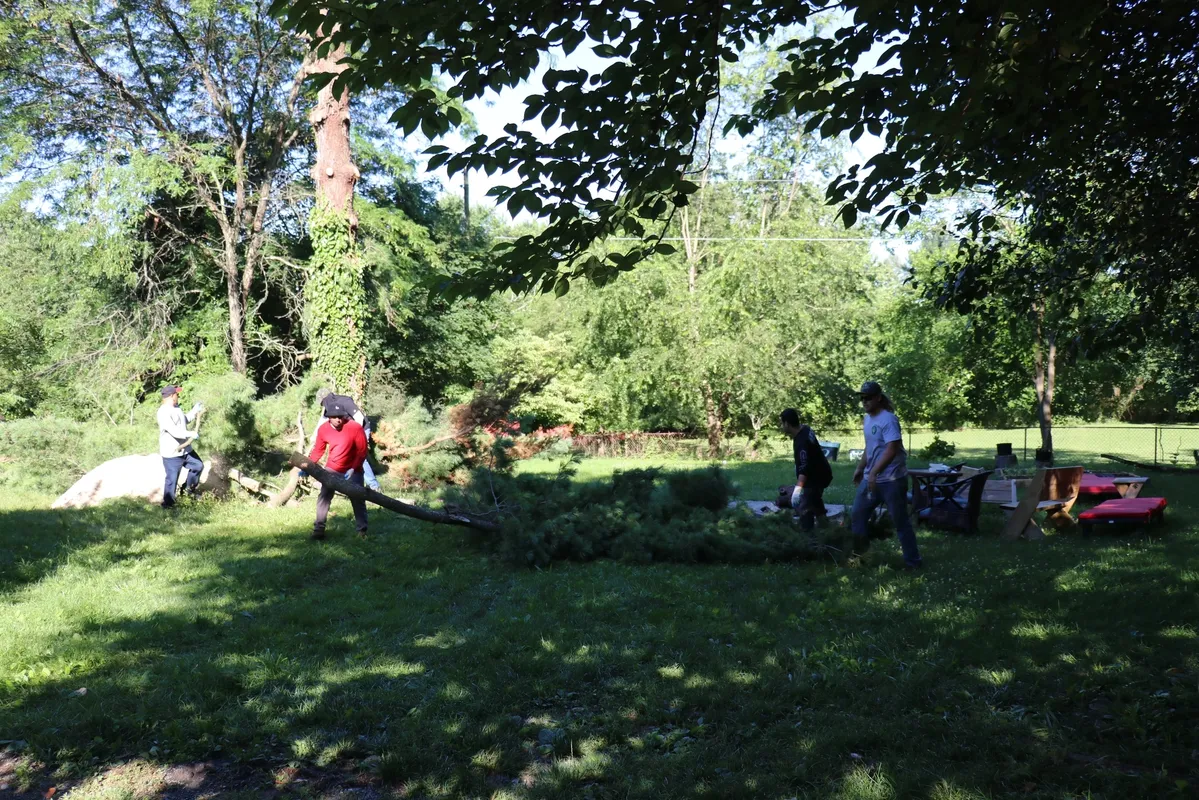 Why Hire Our Tree Clearing Services?
If you're searching for "land clearing services near me," you need to hire a company with a strong track record. Land clearing is a mammoth undertaking that requires a highly trained crew, specialized machinery, and extensive experience in the field. Work with Patrick Musser Tree Service as we have the personnel, skills, and equipment needed to complete the job in a timely, safe, and professional manner.
Our motivated experts know the ins and outs of lot clearing, from surveying the land and figuring out how to make it fit for your upcoming project to preparing the site. We can even help you identify and save valuable trees before we commence. After safely felling the trees, we grind the stump and dispose of all the debris properly, leaving the site ready to be built on. We also know many projects require special permits. We have helpful info on permits for lot clearing across multiple counties.
Call Us Today for Fast and Efficient Land Clearing Services
Here, we take a custom approach to every land clearing job to guarantee you are 100% satisfied. We want you to have peace of mind, so you can focus on other aspects of your project. Feel free to give us a call for a quote and to discover more about our tree services.
Do Your Trees Need Some Attention?